You know the saying "it takes a village"? Well, I think when it comes to raising a baby, the saying is referring to the people you will need in your life and also all of the ACCESSORIES that are needed too!
Babies may not be able to speak, but they definitely have little personalities and strong preferences in some situations. Here are some of the items that have become favorites in our little casita.
/// 1 ///
Aden + Anais Bamboo Swaddle Blankets
The key word here is
bamboo
.
A+A has other non-bamboo muslin blankets that are available at places like Babies R Us, Buy Buy Baby, and Target. These regular muslin blankets are awesome -- we have four and we use them daily! But the bamboo swaddle version is even softer and a lot more luxurious feeling on baby's skin. You can get a 3-pack in the above design, Pyara, for $40 (
here
). This is the very blanket that I wrapped around Camille to bring her home from the hospital. I'd recommend the regular muslin blankets for swaddling and the bamboo version for snuggling. :)
/// 2 ///
Waterproof Changing Pad Mats
Get these. Trust me. I have such a cute gold polka-dotted changing pad cover and I hated putting a waterproof terrycloth mat on top of it, but here's the fact ... Camille likes to tee-tee while she is getting her diaper changed. If it happens on this waterproof mat, I just pull it out from under her, toss it in the wash, and replace it with a new one. And the gold polka-dot changing pad cover stays cutely in place. These are a necessity! You can get a 3-pack of these for $12.99 (
here
). Give these as part of a baby shower gift and you will really show that you know what a mama needs!
/// 3 ///
Nuk Pacifier
We were hoping to hold out until one month before introducing the pacifier, but after 2.5 weeks, it became a necessity for us. I can honestly say we have no regrets! We use it sparingly and it has helped Camille to self-soothe so well. She didn't care for the first or second options I gave her (Soothies or Nuby version) but took right to the Nuk.
/// 4 ///
Cute Burp Cloths
It took me a while to get used to the idea of getting mine dirty, but I'm over that now. I ordered a three pack from
Sewing Dreams & Notions
on Etsy. These are the ones I went with. The quality is great and they are so soft! (I also have a 5-pack of plain cloth diapers that we also use as burp cloths from Target, but it's nice to have "pretty" ones as well.)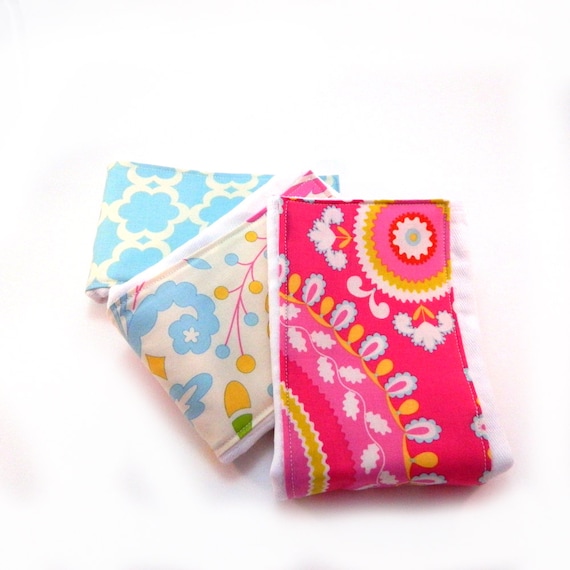 /// 5 ///
White Noise App
I have a free version downloaded on my iPhone and iPad. When Camille is napping or fussy, it's nice to be able to whip out the phone, stick it in her carseat or bassinet, and watch her drift off to sleep.
/// 6 ///
Kissy Kissy Layette
The Kissy Kissy line of infant clothing is so incredibly soft and well-made. Fair warning, it is priced to reflect that. I've honestly purchased dresses for myself that are less expensive than a KK onesie. I have picked up all of Camille's KK clothes on sale at boutiques or at consignment stores. Because the quality is so high, they last through repeated washings, and if buying on consignment, just check and make sure they are stain-free. She has such cute and soft pieces, and I just love knowing that that cozy fabric is right next to her baby skin.
Some favorites are
this footie
($38),
this nautical outfit
($44), and this
terry pool cover-up
($36).
Lastly, I really recommend the Baby Log app. I use this daily to track our feedings (and while I don't use it any more for tracking diapers, it was really handy within the first two weeks for that feature). I downloaded the free version to make sure it was a good one but it will only last so long as a free app before you are prompted to pay to continue using it.
Here's the deal -- if you go that route, using it free first and then paying for it -- you end up with a new app on your phone and it doesn't merge over your data from the free version. So, being that it is only a few dollars, if I had to do it all over again, I'd just download the paid version of the app from the start. It's easy to manage and has really been a lifesaver for charting feedings.
These are just a few of the items that we have really loved in the past three weeks. I'd love to hear your two cents!