It's time for another edition of Five on Friday and I do hope you'll join along!
Remember, all you have to do is post about five things on your mind, add our logo (found at the bottom of this post), and join the party using the linky tools below. Easy, and a great way to find new blogs and be found. :)
Thank you to everyone who links up with us each week!
Also, one quick note. Mr. Strong, the veteran in hospice in Asheville, NC that I mentioned recently, sadly passed away. I know many of you reached out to him with a note of thanks and appreciation. From what I hear, he was completely blown away by the outpouring of love that he received. Thank you to all of you who took the time to write him or keep him in your thoughts and prayers. It made an incredible impact.
O N E
Last night was our monthly Supper Club and I had such a great time catching up with my girlfriends. Plus, my friend Beth made this amazing Frozen Peanut Butter Turtle Pie (
recipe here
, if you're interested, which you SHOULD be!). It was super rich and delicious. Lick-the-plate delicious.
Supper Club is definitely a true highlight of each month, and I feel so fortunate to have these friends in my life.
T W O
The wedding we went to last weekend was so beautiful, and when it was time to be seated for dinner, we made our way over to a table that had these s'mores bundles with our name and table number on them.
Such a unique idea, and we definitely enjoyed this sweet treat the other night! There is nothing like a toasted marshmallow and melty chocolate sandwiched between graham crackers on a gloomy, rainy, chilly evening.
T H R E E
Question for fans of the Lilly Pulitzer
Elsa tops ... how do you wash yours? They are 100% silk and the tag reads "dry clean only." I recently got a few of these tops (for the first time ever) and I was sort of bummed to think that I would be having to dry clean them each time. I asked some Lilly-loving girlfriends via group texts, and several said to wash on delicate cycle and hang to dry. I did that this week, and ... success!
Now, it did dry with some wrinkles in it, so I need to hit it up with some steam, but I am loving not having to go to the dry cleaners. Dry cleaning is expensive, it's one more errand to do, and the chemicals sort of weird me out. I'd love to hear if you always dry clean your silk tops, or if you also clean them at home!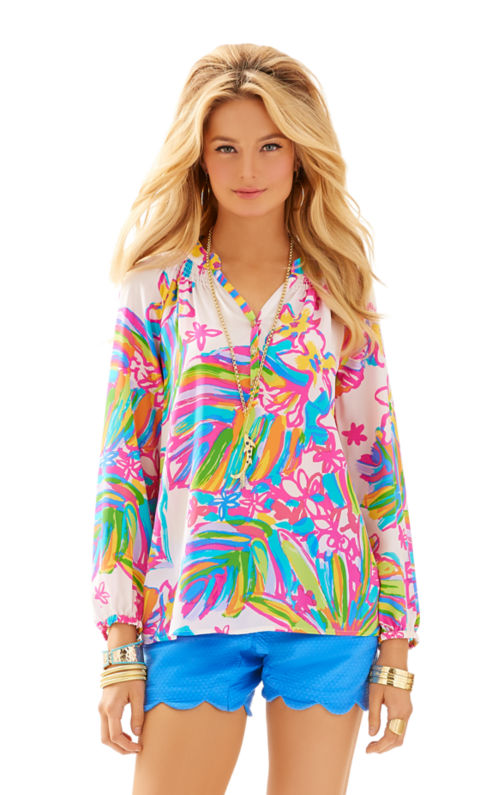 Ian bought me this one recently as a gift --
I love the cheery colors :)
F O U R
We get to see my in-laws this weekend, and I'm really excited! It is going to rain, rain, rain all weekend long, but I'm excited for the opportunity to just relax with family, hang out with my niece and nephew, watch Camille get loved on, and ... maybe sneak downstairs for a little bit and nap and read?! Ha! You've got to love family that is always happy to lend a helping hand while the parents get a little rest!
F I V E
Lastly, thanks to everyone who is interested in reading
The Book Thief
with me this month (
details here
)! I think this will be most fun if it stays rather informal ... I don't want people to feel pressured to read a certain chapter by a certain week or anything. Life is crazy busy for everyone in different ways, and some people are speed readers, some people like to read a few pages a night (like me!). So here's what I'm thinking: what if we come up with a fun hashtag to all use, and that way we can connect with each other on Instagram? If you're reading along, just include the hashtag on one of your reading-related photos, and that way you can see who else is joining along.
Now, I was a Spanish major, not a Marketing major -- so hit me up with your creative hashtag ideas!
TGIF y'all, and hope you will join in on Five on Friday this week! Cheers to the weekend!

*Affiliate links used.