It's time for another edition of Five on Friday and I do hope you'll join along!
Remember, all you have to do is post about five things on your mind, add our logo (found at the bottom of this post), and join the party using the linky tools below. Easy, and a great way to find new blogs and be found. :)
Thank you to everyone who links up with us each week! And congratulations to
Darci
on the birth of her precious and perfect baby boy!
O N E
This is so fun and random. Last night at Michael's, there were these large boxes for $2 right at the entrance. They claimed to be a "Grab Bag" and my first thinking was that maybe it could make for fun crafts to do with Camille. The two holes (handles) in the sides allowed me to peek inside and see LOTS of Halloween goodies. Right up our alley! I decided that for $2, it would be a fun adventure, so Camille and I opened it this morning.
And holy moly, this box was filled to the brim with the most amazing Halloween and fall finds!
Yes, we have to wait 11 months to bring out most of these items again, but some items are perfect for using now, like the woodgrain design pie box, the caramels and caramel dipping set, and the candy apple candy melts. There are four spools of black tulle with metallic gold skeleton faces on them that are just so spooky-cool. If you are close to a Michaels, it may be worth checking out if your store is doing this ... and if you are in Charlotte, we were at the Park Road store and they had about 6 or so boxes left last night around 5:00.
T W O
Oprah has released her
2015 Favorite Things
! (I really, really miss the days when her show came on at 4 and I could cozy up to it on DVR at the end of the day.)
New this year? The list is completely shoppable at
Amazon.com
, so in one click you can see all of her picks. Um, HIIIII, the only way I like to shop these days!
I predict that this adorable engraved Moon and Lola customized pet ornament will be HUGE this year... (and I LOVE that they have a husky silhouette available)
And I am also crazy in love with these bone china appetizer plates, and would rather hang them on my wall than eat cheese and crackers off of them.
T H R E E
I snuck in a quick self-pedicure this morning ... just wanted to report that I am STILL really enjoying the Essie Gel Setter polish (
on Amazon here
). I went with
Cascade Cool
for my toes this morning. Two coats of candy pink plus Gel Setter, and this polish will be shiny and chip-free for weeks.
F O U R
I am really proud of my sister Laura and my girlfriend Sarah for teaming up together to create
a tassel necklace
that gives proceeds to The Independence Fund. I ordered mine Tuesday night! If you are looking for a well-made, beautiful necklace that gives back to an amazing organization, I think this is a wonderful purchase.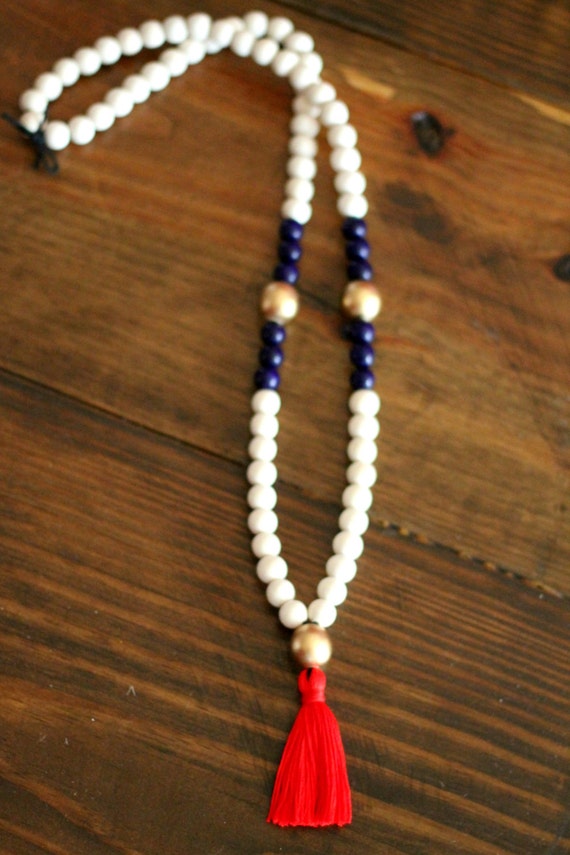 (From the necklace listing:)
Laura Cox and the Independence Fund have partnered to sell this patriotic necklace for the month of November. Proceeds from this special freedom necklace will go to benefit the Independence Fund's pillars of support. The Independence Fund's mission is to support our injured and wounded Veterans with the tools to achieve their independence and freedoms they have fought so hard to preserve! You can learn more about the Indy Fund and donate directly to the Laura Cox Designs fundraiser page
HERE
.
Veteran's Day is approaching this coming Wednesday, don't forget to get your
green lightbulb ready
!
F I V E
Lastly, I am so thankful to everyone who has purchased handmade hairbows this week from The Tipsy Bunny! I was up late last night -- 11:30 -- working on fulfilling orders ... which is like you staying up until 4am. 11:30 for me is LATE! I am a habitual 10:00-er when it comes to lights out. And then I woke up this morning a little after 6 ready to go again and hop back on the bow train. New patterns coming next week, but I am definitely going to treat myself to a weekend off!
But I would like to know, are there any colors you are looking for in particular?
Now ... let me go make a few more bows. :)
TGIF y'all, and hope you will join in on Five on Friday this week! Cheers to the weekend!

*Affiliate links used.