It's time for another edition of Five on Friday and I do hope you'll join along!
Remember, all you have to do is post about five things on your mind, add our logo (found at the bottom of this post), and join the party using the linky tools below. Easy, and a great way to find new blogs and be found. :)
O N E
You girls are filled with awesome ideas and I loved Sarah's comment on my
Easter post
this week about filling the plastic eggs with ingredients to add post-hunt to a large container, making a bunny trail mix! So, so, smart. I also loved the idea y'all had about filling eggs with stickers. Camille loves a good sticker these days (or a temporary tattoo) so that's so smart.
T W O
The last big consignment sale I plan to hit this season is tomorrow, and I am really looking forward to it! This one (Sardis Prebyterian) is tied for my favorite along with the Harris YMCA sale. I just love scouting out a deal, especially on playclothes when the half-priced sale starts in the afternoon. I love sharing my consignment sale finds here with y'all and I hope to show you some cute items for Camille's spring/summer wardrobe next week!
T H R E E
My sister's baby shower is this weekend! I am hosting it at my home and it will be a smaller, family-centered shower. I've been working hard with
Laura's
sweet sister-in-law to ensure that the day is pretty and that our bellies will be full :) Below is the shower invitation I went with that I found
HERE
on Etsy. I just love the classic carriage design!
I customized the cupcake order yesterday (and man oh man, they are going to be CUTE), balloons get ordered today, and the flowers I ordered arrived on my doorstep yesterday!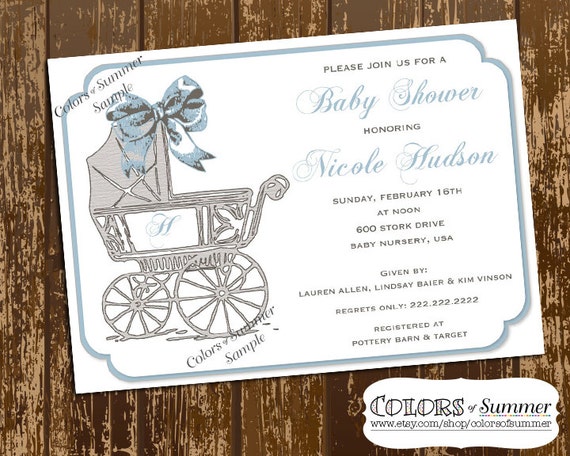 F O U R
Hey Greenville gals! Do you know about
Swoon
? This curated one-stop shopping event is happening next weekend in your backyard. I will be there selling
The Tipsy Bunny
bonnets and hairbows, and I would love to see you! Please let me know if you plan to stop by so I can keep an eye out for you!
As we get closer to the event I'll post a few sneak peek photos on Instagram of some of the items I'll be bringing, including some brand new Lilly print hairbows and a new spring/summer bonnet style that will make you ..
swoon!
You can check out the
Swoon
Facebook page to see the other vendors that will be attending.