Move over, fashion bloggers. I'm here to share the amazing fashion finds that I recently snagged at THE WALMART.
Look, it may not be as glamorous as a Neiman Marcus shopping experience, but the draw for me here is 1) cheap cheap cheap, 2) not going to cry if it gets spit-up on it, 3) probably nothing in Walmart is dry clean only, and 4) I can pick these items up at the same time as I'm getting diaper rash cream and tin foil.
So, now that I've got you on the edge of your seat about my Walmart finds, here we go. And these items are actually pretty darn great.
ONE:
Hot weather is officially here in the Carolinas. We've been spending great time outdoors, whether it's in our backyard or at the park. My yoga pants still maintain a special place in my heart, but I need shorts for the heat.
These awesome shorts
have a mesh layer over a "compression" layer. I put that last part in quotes because, while they do sit flush to my thighs, I wouldn't say that they are tight enough to be compressing anything.
BUT, the reason why they are a win in my book is that I can PLAY with Camille without worrying about my shorts exposing too much fanny. I take her to My Gym class where we do activities together ... one part of the class has her sitting on my lap and then we rock back together and then rock back up to a sitting position. I haven't been comfortable doing that in regular running shorts because it's just -- not pretty. These shorts will be perfect for that class.
I picked these up in the gray/neon yellow combo but now want another pair, either the black/pink combo or black/gray. I went with a size small and they fit me well (I'm 5'2").
Running shorts with built-in compression shorts (HERE)
TWO:
I mentioned in my Five On Friday post how much I was loving the
crochet waist shorts
that are only $7.88 ... they are in the juniors section. I picked up a second pair yesterday -- black and white. Love 'em. Will look so cute with a colorful tee and metallic sandals. Not a lot of sizes remain at all online, so you may need to pick these up in store.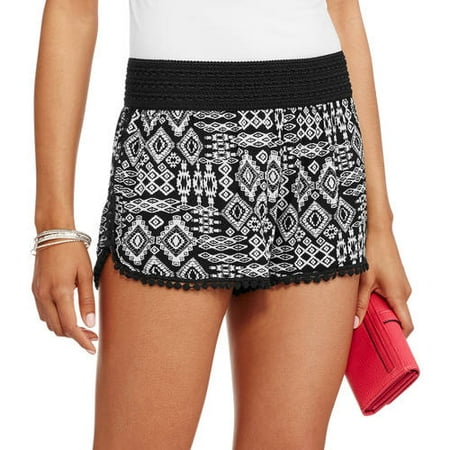 Crochet waist shorts (HERE)
THREE:
I am not yet comfortable wearing a normal bikini top -- I'm two months postpartum, so tankinis and one-pieces will be my go-to for the summer. I have some black bikini bottoms already, so I picked up this tiered ruffle
tankini top
yesterday to pair with them. It actually looks really nice with the metal rectangular beads on the front ties. It comes in other great colors like coral and baby blue.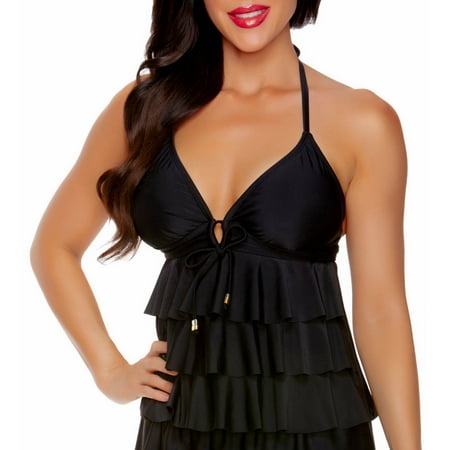 Ruffle tankini top (HERE)
A tip I learned from my
blogging friend Justine
is to order at least $50 of items from Walmart.com to earn free shipping (big household items are a great idea, like your mega pack of toilet paper -- because who wants to walk around the store with that beast?) and then you can try on in the comfort of your own home and return anything that doesn't fit to the store.
Anna Wintour, eat your heart out. I'm coming to get ya in my Walmart shorts.