It's time for another edition of Five on Friday and I do hope you'll join along!
Remember, all you have to do is post about five things on your mind, add our logo (found at the bottom of this post), and join the party using the linky tools below. Easy, and a great way to find new blogs and be found. :)
O N E
Last night my mom was in town so Ian and I took advantage of the best babysitter ever and went out to dinner! A dinner that did not involve crayons, chicken nuggets, or leaky sippy cups -- can I get a HALLALUYER.
We went to Dogwood in the South Park area, and it was Ian's first time there for dinner. I'd been there for lunch and
my baby sprinkle
and knew the menu was awesome. I had the chicken dish, YUM, and I enjoyed a glass of rose to start and then a pinot grigio with my meal. We also had the bison carpaccio as an appetizer and it was amazing.
I wore my new (to me) J. Crew top that I scored for $9.99 on
Thred Up
and my
new Target booties
! My
fave neutral Kendra Scott necklace
, the
perfect pink lipstick
, a little hair pouf, and I was all set.
BTW, if you like that shirt from
ThredUp
, they have another XS listed (that's the size I went with). Just search for "J. Crew Factory Short Sleeve Blouse" and you'll find it. They have it for $9.99. Use
my referral link here
and they will give you $10 to shop!
T W O
Speaking of those Target booties -- I bought them for $35. Well, of course they are
on sale now for $28
! You better believe I am going to get a price-check on them.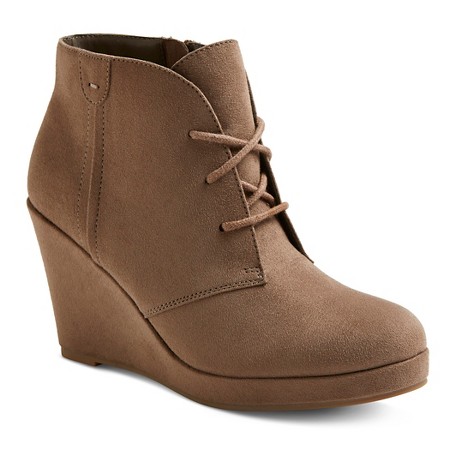 After reading the reviews online, I sized down from a 7.5 to a 7. I only will be wearing them with slim ankle socks so I don't need to have room for thick socks. When I first put them on last night, I initially felt a little silly walking around ... clunky. It's sort of like when you used to go rollerskating and the skates feel crazy at first and then they just feel like an extension of your feet. So, if you try these on in store and aren't sure about walking in them, rest assured that they feel extremely normal after a few minutes!
And Ian loved them! I think because they're sexayyy without being over-the-top like stilettos. They really elongated my legs when worn with skinny jeans, and for someone 5'2", that says a lot!
T H R E E

I picked up a cute pumpkin costume for Charlotte already but then saw
this adorable gown
from Nordstrom for just $15. What a great easy costume idea for a wee one, or a cute gift for a new baby! It's 0-6 months which is that perfect size for the "do I dress up my newborn?" quandry.
It's by Mud Pie and they have a
ghost version too
, also $15.
Free shipping and returns, natch.
F O U R
This past weekend my
Thirty One LUT
(large utility tote ... I love that it has its own acronym) arrived! I am SO happy that I ordered this fun black and white print and also went for the stand tall insert. It's amazing how big it is and now I honestly wish I had about four more. I'm torn on where/how to use it. Ribbon and tool storage for making hairbows? Does it stay in the trunk to keep all little things corralled? Does it chill in our mudroom as a catch-all for hairbows, sandals, and scarves? I can think of a gazillion uses. How do you use yours?
As a reminder,
my friend Justine
sells this line and she is a GOOD person. So sweet, so thoughtful, and a mama of five! She's an organization queen so, in my mind, the perfect person to represent a line of items to help get your life more organized and streamlined.
F I V E
I recently created an Instagram page for our Etsy shop, The Tipsy Bunny, where we sell items! Please follow us on Insta at @thetipsybunny. I've got some cute Lilly Pulitzer pumpkin bows up for grab and we are going to list some bonnets today! Thank you to all of you for supporting our mother/daughter endeavor :)
TGIF y'all, and hope you will join in on Five on Friday this week! Cheers to the weekend!