I am light years away from having this new home finished, but I am making progress in several rooms! Today I wanted to share with you some new pillowcases and artwork I've added to our home.
First of all, pillows. I have these large pillows on the back of our West Elm couch. I had the pillowcases made five years ago, so they have definitely grown a little tired. Our new family room is also very open and light, so I needed some darker colors to ground the look. But I do love the blue/green overall motif and didn't want to have to change that drastically.
Sooooo.... here's where we started:
And here are my new pillowcases!

My sister's former coworker Elizabeth is the founder of
Wheaton Whaley
, a cute cute cute Etsy shop specializing in handmade pillowcases (she sells inserts as well). Her pillowcases are extremely well-made and priced reasonably. And, if you're like me and you like supporting GOOD PEOPLE, I can tell you that Elizabeth is just about as sweet as they come. She is a beautiful young lady really carving out a niche for herself in the home decor world. She lives in Greenville, SC, is a mom to a beautiful little girl, and a great wife. She works a full-time job AND owns this
fun Etsy shop
. Hustler to the Nth degree.
I'm so in love with those palm print pillows (in her shop
here
) and love they way the aqua in them pops with the aqua animal print pillows! The palm print pillows are also an indoor/outdoor fabric which will make them super durable and almost totally impervious to Cheetoh fingers.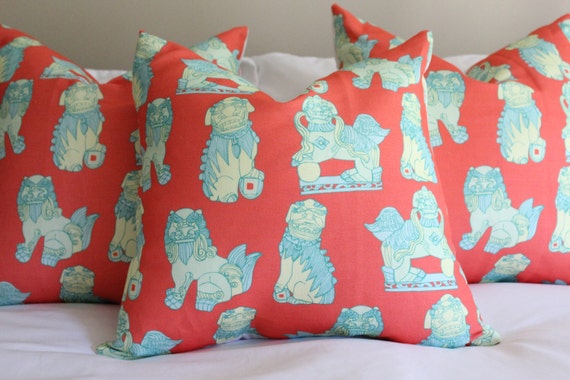 And next up, art for Charlotte's nursery!
The sweetest little animal prints below are the work of
Stephie Jones
. She is a fine artist living and working in Virginia Beach. She paints bright, lively and colorful work in multiple mediums including oil, acrylic and watercolor. I just adore these prints of animals wearing gorgeous floral crowns!
They will be hung on Charlotte's nursery wall across from her crib. The rabbit print is actually a free printable that you can get by signing up on her website for her e-newsletter! Believe it or not, I printed it out on our home printer and put it in a frame from AC Moore, and BAM ... instant DIY art. So inexpensive, quick, and easy.
Her newest collection, Beach Daze, releases October 17th and is inspired by the Outer Banks in North Carolina.
She has generously offered to gift one of you an 11x14 or 12x12 print from her website
(current prints or the Beach Daze prints that open on 10/17!)
.
You have two options for entries -- do one or both -- and leave a separate comment below saying what you did to count as your entry!
1) Sign up
HERE
on her website for her free enewsletter (you'll also get that sweet rabbit printable), and
2) Follow her on Instagram (
@stephie_jones_art
)
The giveaway will run today and will end tomorrow (Wednesday) at midnight Eastern time. I'll announce the winner Thursday and put you in contact with Stephie!
Ready ... set ... go!