It's time for another edition of Five on Friday and I do hope you'll join along!
Remember, all you have to do is post about five things on your mind, add our logo (found at the bottom of this post), and join the party using the linky tools below. Easy, and a great way to find new blogs and be found. :)
O N E
We have a relaxing weekend ahead ... a pizza date with a favorite friend family, some yardwork, a toddler birthday party, and the Super Bowl! I am excited to come up with a fun little menu. I have been craving the apple nachos (recipe
HERE
) that I made years ago! So delicious and Camille would get such a kick out of them.
T W O
Thank you so much to the sweet reader who let me know my link on Tuesday's post for the Cuban sliders was incorrect! I corrected it yesterday on the post, but just for ease,
here it is
. Recipe and photo below are from
recipegirl.com
.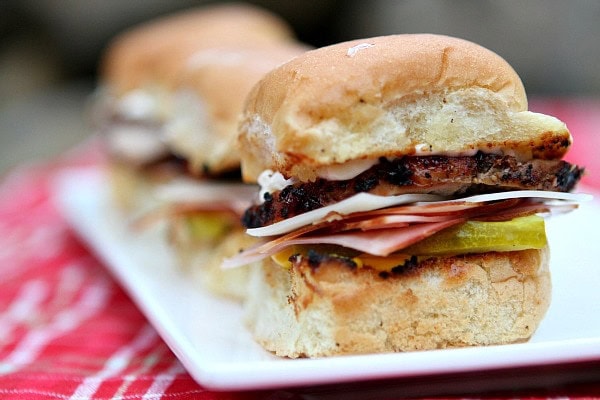 T H R E E
Okay, some of you may remember that recently on a post I wrote about
hobbies and making money
, a comment from a reader about the mystery shopping she does got a lot of attention! Everyone wanted to know more ... how did she get into doing this gig, and how could they get into it as well? She emailed me with details, and here's the info she passed along. I hope this helps some of you to check out this option and see if you can make your own little side hustle "Chick fil A money"!
EPMS:
Apartment complex mystery shopping
No upfront costs
Paid once a month (direct deposit)
$35/shop-minimum, some shops pay $60-$75
Gig spot:
Stores and restaurants
You pay for your meal or whatever you are buying at the store, they reimburse you
More fun, but you don't make as much money
F O U R
My sister Laura sent me the most delicious looking recipe the other day that she enjoyed. Buying whole carrots (even organic) is way cheaper than you may expect. I can't wait to try these with Camille ...
recipe here
!
F I V E
Dare I say that we are .... researching Disney?!
YES. YES. YES. YES. YES.
Here's the caveat. We'd take Camille only and we'd only have like a day or two at the park. So, those of you who are Disney obsessed or at least Disney aware ...
hit. me. up.
I want to know all the things. Where should we go (Magic Kingdom?) and what can we book like less than two months out?
TGIF y'all, and hope you will join in on Five on Friday this week! Cheers to the weekend!