One of the best parts of reading blogs is finding out about things that you might have never known about. Services, beauty products, life hacks, you name it.

I've been reading blogs for about eight years now and writing mine for the same amount of time. That's a loooong time of hearing recommendations and also sharing them!

Sometimes I think to myself "Hey, self. Wonder if blogger XYZ still loves using that tanning lotion?" so today I wanted to update you on things I'm still loving and others I've moved along from.


Grove Collaborative
Referral link here - earns you a free 5-piece gift set with purchase
The reason why I continue to use Grove (versus Amazon, Target.com, etc) is that they filter out many of the household products that may be "less" clean so that having a greener household is EASIER. And they are upfront about their auto-ship policy with email reminders before ANYTHING ever ships to you, so hopping over to your cart -- which I do right from my phone -- to make desired edits or delay your shipment entirely is so easy. The Mrs. Meyers line is one I love to order thru them, and I love that they'll occasionally throw in promos with free products you can try out.
ThredUp
Referral link here - $10 off your first order
I love buying second-hand. Better for the environment AND the checkbook! ThredUp has consistently proven to me that their standards of what they will accept and resell are high, and I love buying clothes for myself and for the kids through this site. I often shop directly from the app. I wish the threshold for free shipping ($79) was a little lower, but I will say that making free returns with this site is extremely easy.
Walmart Grocery Pickup
Referral link here - $10 off your first order
Grocery pickup is a gamechanger. The closest Walmart that offers this service is about 15/20 minutes away, but I tell myself that I'm saving time in the aisles (and saving MONEY, too, because budgeting is so easy when you shop online) so it's worth the longer drive. You pull up, enter your last name at a kiosk, pull forward to a pick-up bay, and they bring your groceries out with a smile. No tipping allowed. $30 minimum on orders which is super easy if you're doing weekly shopping. Nice organics selection, great for buying large/bulky items like 12-packs of paper towels! For reference, the large box of diapers we used to get from Amazon is the exact same price as our Walmart.
Monat
Purchase here
I'm still using this haircare line, although I'll also use the Jason volumizing line (that I get from Grove Collaborative, above) from time to time. Monat has given my hair volume and I've been using it since October. I also love pairing this with Aveda's Volumizing Tonic when blow-drying my hair.
Massage/Heat Pillow
On Amazon here
I received a question about whether I'd still recommend this pillow. Heck yes! It has saved my back during this pregnancy. I keep it constantly plugged in and under the couch and just whip it out as needed. I have the champagne-colored soft one. You can use the massaging option solo or pair it with a little bit of heat (my favorite). It's that crazy piece of gear you are telling yourself you don't need, but once you get it you'll be hooked. PS, it even comes with a cigarette lighter adapter if you want to use it in the car ... which I've totally done.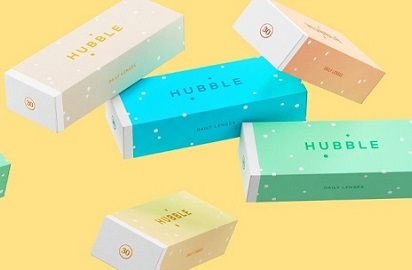 Hubble Contacts
Online here
Every 30 days I'm receiving my $30 box of monthly contacts and I've been so pleased at how easy it's been! I'm saving SO much money from what I was spending on my daily contacts from my eye doctor, and they come direct to my mailbox. Not great for anyone with an astigmatism, but would highly recommend for anyone else to give the $3 trial a shot!
Guerlain Nerolia Bianca
On Amazon here
Am I still loving this perfume? OMG yes. My brother-in-law's girlfriend was wearing it this past Thanksgiving and it stopped me in my tracks. I got a bottle for Christmas (yay!) and receive compliments on it all the time. I know it may seem crazy to buy a scent online without ever smelling it (obviously I give it the major green light) but maybe you can find it at a local perfume shop or see if someone is selling testers on eBay?
Moved Along
RocksBox
Online here
Okay, on to items and services I'm no longer using. RocksBox is a jewelry rental/subscription service. If you fall in love with a piece of jewelry you can keep it and apply your $21/month payment toward it. I actually got some pretty awesome jewelry from it, but decided to stop my membership after my Kendra Scott collection grew to more than a normal person should own. Maybe give it a shot for summer months and see what you think? Their stylists are easy to communicate with. I just felt like I gave it a long shot and sort of got everything out of it I wanted.
Blue Apron
Online here
We used this meal subscription service for several months, but it was sort of pricey and the recipes always took longer to prepare than the recipe cards estimated them to. Maybe it was just me, ha. I genuinely enjoy meal planning and cooking so it wasn't a service I felt I needed to keep up.
L'Oreal Extra Volume Collagen Mascara
On Amazon here
Never thought this would make this list! I've been a devout L'Oreal mascara wearer for ... forever. But now that I'm a distributor for Senegence products and am able to purchase those products at a discount, that mascara (LashSense) is what I've transitioned to. I honestly prefer the Senegence mascara, love the more precise wand, love that it doesn't flake at the end of the day, and love that it's waterproof but easy to remove. I've tried to go back to my old mascara but just have been let down. L'Oreal -- we had a good run.
Revlon Volumizing Hairdryer
On Amazon here
So, a caveat to why this is in this category. I did NOT fall out of love with this hairdryer -- in fact, I really miss it! Interestingly enough, when I just pulled it up on Amazon I saw that I purchased it exactly one year ago today. Well, about a month or two ago, it started making a REALLY loud and scary noise and I guess the motor is going kaput. I stopped using it, afraid it would blow up. I'm out of my return window for Amazon but I saw that it apparently has a 2yr warranty on it with Revlon, so I need to pay to send it back for a new one. One day, when I get a few spare minutes, I plan to do so.
Okay, so that's it for today! Did I miss anything you've been curious about? Let me know!