I'm so glad that the weekend is almost here, because that means that it's officially vacation time for us! We are beach-bound and I'm only slightly nervous about spending more nights away from home with a newborn than we've done. Thank goodness for large cars!
A quick update on our Five On Friday link-up -- we are officially going on summer break! Don't worry, it's temporary ... we love this link-up and love reading the blogs of all who participate. After this brief hiatus, we will resume the normal Friday shenanigans and we'll keep you posted when that is going to happen.
For now, I'm taking part in Thoughts For Thursday ... you can link up
here
!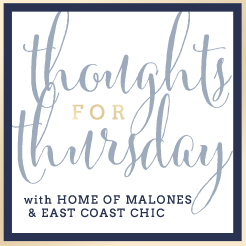 Yesterday, we were invited to our very first playgroup, and while Camille was definitely the youngest babe there, it was so awesome to be included in this fun mommy group! She was on her very best behavior, so I hope we will be asked back ;)
Some of the Moms had awesome things to say about the Miracle Blanket, so I purchased one yesterday -- will give it a few nights and can't wait to report back with our experience.
$32 at Target
Last night, we enjoyed a visit with my Aunt and Uncle, and they just loved Camille!
They brought over wine and the yummiest dip, which my sister has blogged about before. I'd totally recommend this dip, it is heavenly!
Cheesy Hearts of Palm Dip
photo via The Reedy Review
Lastly, I adore me some MHM -- she sent me the sweetest surcee this week -- guess the name of this brow highlighter color? Camille! MHM, I just love you so.
Her new blog The Chardonnay Kitchen is the jam. But you already know that.
That's all I have for now ... see you all tomorrow for a different kind of Friday blogging, and remember, Five on Friday will resume after a brief summer break!