It's a snowy day here in Charlotte, however we luckily didn't get as much snow as they predicted last night. On a scale of dusting to complete mayhem, we are right around "slight snow mixed with grocery store madness." Last night Ian ventured out for necessities (cheese and baby Motrin) and said the grocery store was a madhouse. So we are staying put and staying in. I do think a little hot chocolate is in our immediate future. I have some cocoa powder --
here is a recipe
for hot chocolate from scratch. Yum.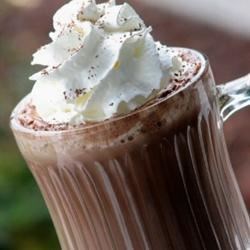 Around this time last year is when Ian and I took our
babymoon
to Boca Raton and Miami, Florida. Our resort's sister property had a Serendipity onsite, the cute little sweetshop known for their frozen hot chocolates. So, if your temps aren't in the 30s like they are here in Charlotte,
here
is the copycat recipe for Serendipity's piece de resistance (even loved by Oprah).
Stay warm loves, and see you here tomorrow for Five On Friday!