Ian and I have made a concerted effort to go lights-out at 10pm for the past two weeks. That was always our goal, but far too many nights were happening where I looked up from Candy Crush (ahem) to realize it was 11:15. We were making our way back to bed later and later, and by the time we brushed teeth, chatted, and did some work (ahem) on our iPads, it was just too late to guarantee a restful sleep.
I'd had it with my yawn-filled mornings, so we vowed to start making our way back around 9:00/9:15, and now we are a few weeks in to 10pm bedtimes. What a difference it makes when the alarm goes off in the morning! To feel actually rested ... ahhh, I missed that feeling. Many times I'll actually wake up before my alarm goes off, which is how I know I'm getting enough rest.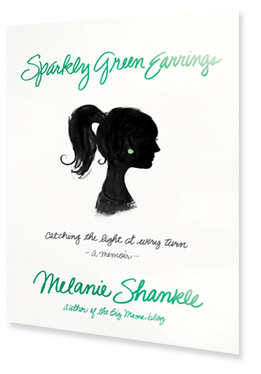 Sparkly Green Earrings
Reading before bed is so relaxing to me, and I am always looking for new books to capture my interest. Typically I don't go for chick-lit, so I brushed off this title when I first saw it. I admit it ... I totally judged the book by the cover.
Little did I know that it wasn't at all what I was expecting!
I received an email Monday that this book was currently on sale for umm, FREE, so I read a bit about it and realized that it was worth a shot.
It's written by Melanie Shankle, blogger behind
Big Mama
. And although I'm not a mama myself, I've enjoyed her writing so much already. She's a darn hoot. It has been the best way for me to end my day.
I'm not sure when the price will revert to normal, but if you can catch it while it's free, may as well! With Mothers Day approaching, it will certainly be an insightful and humorous read.
And besides ... who doesn't love sparkly green earrings?
Top Row

Bottom Row
I think the book title has inspired me to do a little ear-bauble shopping. Uh-oh!